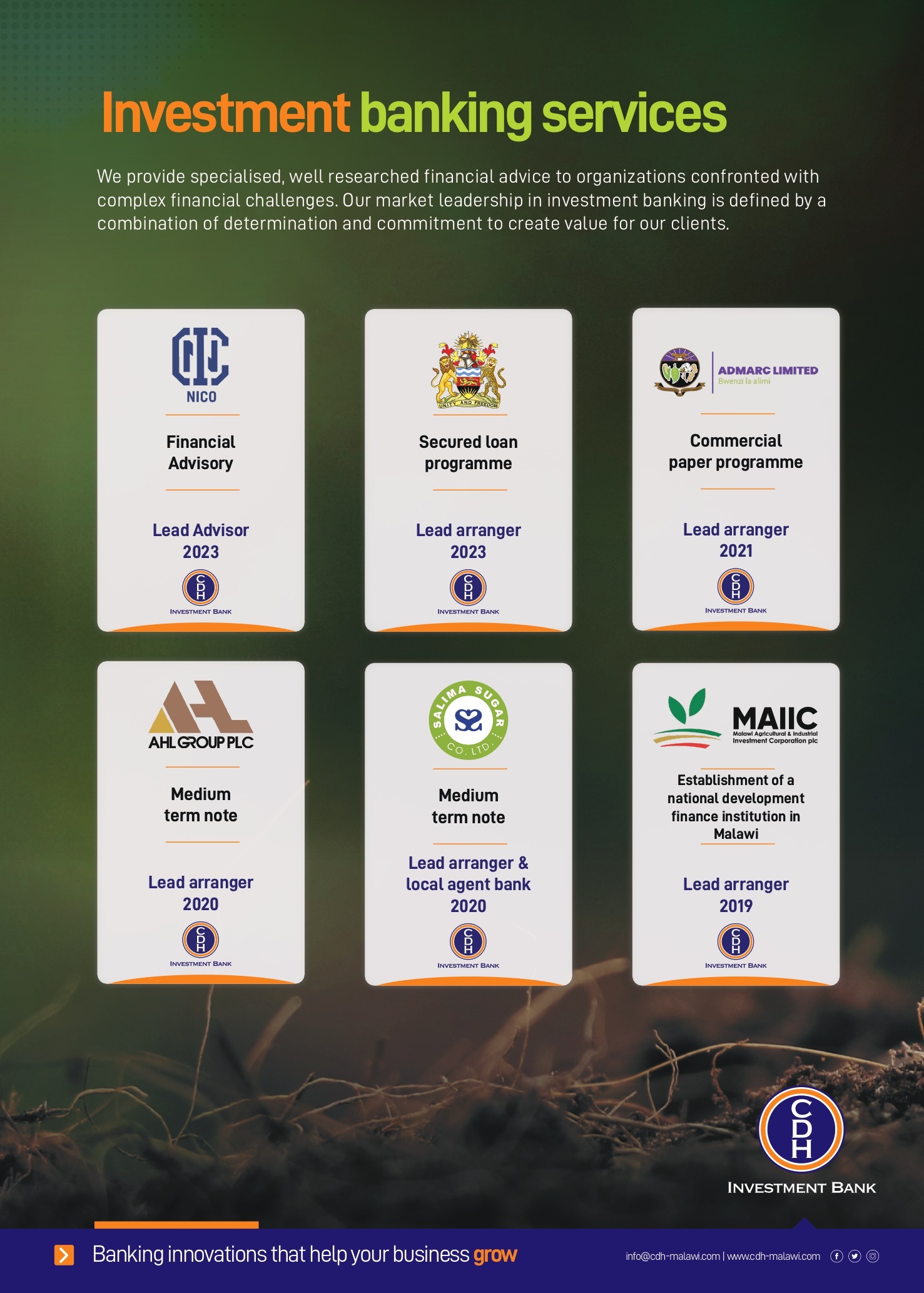 Background
We provide specialized, well researched financial advice and services to a wide range of clients confronted with complex financial challenges, including corporations, financial institutions, government institutions, non-governmental organizations and individuals. Our market leadership in investment banking is defined by a combination of determination and commitment to create value for our clients. We have strong research capabilities in the market, capable of delivering unique solutions to our clients.
Our track record
We have executed high-value, high-impact investment banking transactions in Malawi. Our experience cuts across project finance, equity issues and restructurings, debt issues and facilitation of trade. CDHIB is mandated lead arranger in various large scale project finance transactions in Malawi, with a total value of USD100 million, currently running. We are the mandated lead arrangers who assisted Peermont raise debt financing to open the Umodzi Park Resorts in Lilongwe, Malawi.
On the equity front, CDHIB were the mandated lead arrangers in an equity issue transaction involving NBS Bank Limited and International Finance Corporation (IFC). We also led an equity issue transaction which facilitated the successful conversion of CDH from a discount house to an investment bank. Our team recently closed a high-impact equity restructuring transaction which was done through a court approved scheme of arrangement. CDHIB is the only investment bank to have closed two delisting transactions in Malawi.
Our approach
At CDHIB we offer investment banking products and services designed with the needs of the client in mind. Our point of differentiation lies in the unique service delivery by our highly motivated team. We go a step further than just providing generic investment banking services. We start by examining the various aspects of a client's overall financial circumstances. We then use this understanding, as well as carefully researched industry information, to identify the appropriate solutions to meet our client's specific needs.
Services and products offered by the investment banking division are supported by a fully-fledged corporate banking division. This provides an all-encompassing banking experience to our clients.
Through our off balance sheet financing capabilities, we are the link between our clients and the investors. This makes our business capabilities limitless in terms of the magnitude of the transactions.
Our promise to you
Our people               : highly skilled and talented.
Our business            : the ONLY fully fledged investment bank in Malawi.
Our hallmark            : an on-going client-advisor relationship.
Our approach           : Innovation and creativity.