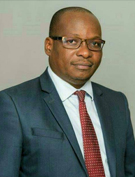 Benison Jambo
Chief Business Development Officer
Benison was appointed Chief Business Development Officer in January 2016 responsible for driving commercial banking business at both corporate and retail level. Prior to that Benison was the Banking Centre Manager for CDHIB's Lilongwe Banking Centre responsible for business generation and relationship management for the central and northern region.
Benison Jambo is a seasoned banker with over eighteen years work experience in the banking sector in Malawi. He has extensive experience in commercial and retail banking business cutting across all banking segments with a proven track record of accomplishments in branch management, product development, sales, trade finance, project finance and credit management.
Before joining CDHIB, Benison held various senior positions in a Pan African Bank, Eco bank Malawi where he worked as a branch manager and Head of Domestic banking for a period of 4 years responsible for the Bank's retail, large local corporates and public sector business. Before joining Eco bank in 2009, Benison rose to the position of Acting Head of retail banking and operations at Malawi Savings Bank where he also worked as a branch manager and area manager in prior years.