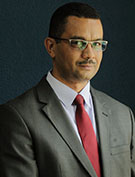 Christopher Ngwira
Chief Internal Auditor
Christopher was appointed Chief Internal Auditor for CDHIB in July 2016. He is responsible for the bank's internal audit division.
Christopher brings with him over 24 years of professional work experience in auditing, finance and information technology, including 9 years with KPMG, where he served 2 years as a Senior Manager in its Malawi Practice.
Christopher is a Fellow of the Association of Chartered Certified Accountants and holds a Master of Business Administration degree from the University of Derby (England). He also has a Bachelor of Science degree in Computer Science and Statistics from the University of Malawi.