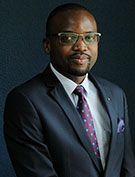 Chris Chirwa
Chief Information Officer
Chris was appointed as Chief Information Officer for CDH Investment Bank in 2014 responsible for planning, development and operation of the Banks' IT infrastructure and technology solutions.
Chris has over 10 years of experience in ICT service management, projects management and ICT operations. He has previously worked as Head of IT for Opportunity Bank Malawi from 2012 to 2014. Prior to that he worked as IT Manager for Indebank and Systems Administrator for Malawi Savings Bank.