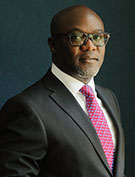 Thoko Mkavea
Chief Investment Banking Officer
Thoko has over 19 years' experience covering investment banking, finance, fund management, project finance, general management and treasury. He joined the CDH group as Head of Asset Management with Continental Asset Management Limited in 2007. During his time in the group, he has led several large corporate and project finance transactions serving several clients. Previously, Thoko was Deputy General Manager and Head of Finance and Administration for The Leasing and Finance Company of Malawi Limited (LFC), a subsidiary of First Merchant Bank. He also served as a senior manager in finance with Henred Freuhauf Limited, an engineering manufacturing company and management trainee with the Press Group in Malawi.
Thoko is a Fellow of the Chartered Institute of Management Accountants (FCMA) and a Chartered Global Management Accountant (CGMA). He also holds a Master of Business Administration (MBA) degree from the University of Derby (UK) and a Bachelor of Accountancy Degree from the University of Malawi.