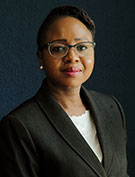 Beatrix Mosiwa
Chief Finance Officer
Beatrix joined CDHIB as the Chief Finance Officer on 1st July 2013. She is responsible for the bank's accounting, financial control and reporting.
Beatrix brings with her over 14 years of experience covering audit, accounting and finance, strategic management and treasury risk management from the telecommunications, manufacturing and financial services industries. Beatrix served in a similar capacity at Nedbank (Malawi) Limited between 2010 and 2013. Between 2008 and 2010 she was Finance and Administration Manager for Dulux (Malawi) Limited. Before joining Dulux (Malawi) Limited, she served as Chief Controller of Carlsberg (Malawi) Limited comprising Carlsberg Breweries Limited, Southern Bottlers Limited and Malawi Distilleries Limited. Previously, she was with Malawi Telecommunications Limited as Head of Internal Audit. Beatrix started her career with KPMG in 1998.
Beatrix is a Fellow of the Association of Chartered Certified Accountants (England). She also holds a Master of Business Administration degree (MBA) from the University of Ulster (Northern Ireland).