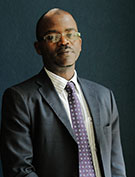 Kingsley Zulu
Director
Mr. Kingsley Zulu was appointed as a non-executive Director of CDH Investment Bank in November 2016 and sits on the Audit committee of the board.
He is currently employed as the Group Financial Controller for Continental Holdings Limited, a position he has held since April 2012. He previously held the position of Head of Finance, Administration and IT for Continental Discount House Limited (CDH), a predecessor of CDH Investment Bank (CDHIB) from November 2007 and March 2012. He also served as caretaker Chief Finance Officer of CDHIB between December 2012 and April 2013.
Prior to joining CDH, he worked for the Malawi Institute of Management (MIM) as Director of Finance (April 2004 - November 2007) and as Accountant from April 2002 to March 2004.
Mr. Zulu launched his accounting career with the International Accounting and Auditing firm, Messrs. PricewaterhouseCoopers (PwC) in January 1999 as an Audit Assistant and left in April 2002 at the position of Audit Senior.
Mr. Zulu holds a Bachelor of Accountancy degree from the University of Malawi. He is a Fellow of the Chartered Association of Certified Accountants (FCCA) and also holds a Master of Science degree in Strategic Management (MSc) obtained from the University of Derby (England).