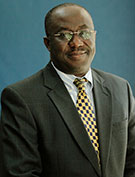 Charles Assare
Director
Charles has strong experience in investment management, investment and commercial banking and financial advisory which spans over a period of over 28 years. Charles is a Financial Management Consultant, consulting on various transactions in Ghana. Charles started his banking career with the Bank of Boston, USA, in 1985. In 1990, he was appointed Vice President of Ecobank Ghana Limited. He also served as Vice President of HSBC Equator Bank, Connectiucut, USA between 1994 and 1998.
In 1998, Charles joined the Ghana Social Security and National Insurance Trust (SSNIT) as General Manager for its investments division. He was later appointed Chief Executive Officer, a position he held until 2001. Between 2003 and 2006, Charles was Chief Operating Officer of Greater Philadephia Health Action Plc, USA.
Charles holds a Bachelor of Arts degree, Economics and a Master of Business Administration degree (MBA) from Tuck Business School, Dartmouth College, USA.