Company overview
CDH Investment Bank (CDHIB) is a leading investment bank in Malawi. It opened for business on 2nd April 2012 following the successful conversion from Continental Discount House Limited (CDH) which had operated in the financial sector for 14 years since August 1998.
CDHIB's unique service proposition is investment banking and corporate financial advisory service to its clients in a way not offered in the Malawi financial sector. It is a deposit-taking investment bank out of which it makes loans and advances.
We offer personalized financial services to clients who wish to grow their business. Our point of differentiation lies in our commitment to an on-going client-adviser relationship and delivery of tailor-made financial solutions that are unique in the Malawian financial services sector.
CDHIB is a subsidiary of Continental Holdings Limited, a fast growing financial services group. Other companies within the group include Continental Asset Management Limited, Continental Asset Management Nominees Limited, Continental Capital Limited, Continental Properties Limited and CDH Capital Rwanda
Mission statement, vision and values
Our mission: To deliver financial solutions to our clients by effectively utilizing the best human capital and information technology.
Our vision: To be the leading specialist bank in Malawi.
Our values:

Integrity
Respect
Teamwork
Equity
Innovation
Group structure
CDHIB is a subsidiary of Continental Holdings Limited which is itself 81% owned by Trans-Africa Holding Limited (TAH), 13% by Press Trust and 6% by Employee Share Ownership Scheme (ESOP). Below is the summary group structure: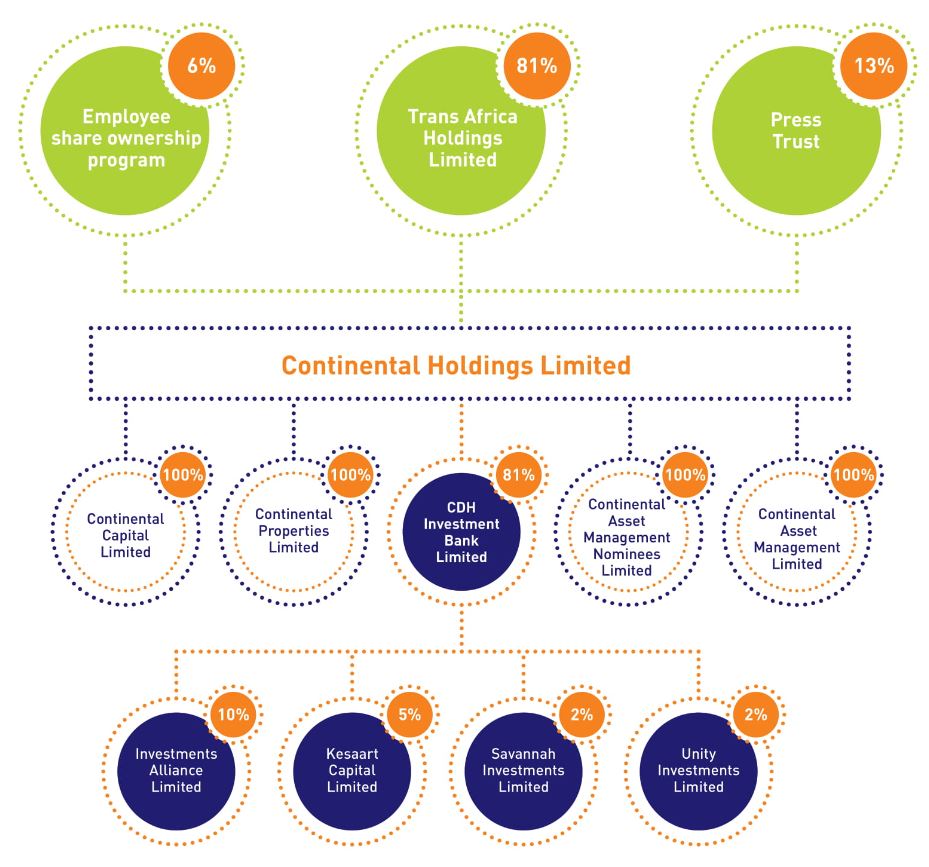 Corporate governance
CDHIB is committed to the highest level of corporate governance and the implementation of effective structures, policies and practices that improve corporate governance and create sustainable value for our shareholders and other stakeholders. Our corporate governance practices are continually being reviewed and improved by benchmarking against internationally accepted best practices. The board is responsible for setting and reviewing the bank's strategic direction and monitoring the implementation of strategy by management. The CEO is responsible for the strategic leadership of the business.
Risk management
The CDHIB board regards risk management as a key discipline within the bank's operations. The day-to-day responsibility for identifying and managing risks lies with management. Management is accountable to the board for designing, implementing and monitoring the system and process of risk management. Risk management has become a standard business discipline and is applied consistently throughout the bank's operations. The risk management process is integrated with the strategic business planning process and is embedded through our management reporting and performance management system.
Social responsibility
Corporate Social Responsibility is one of our fundamental values at CDH Investment Bank. We are committed to creating value not only for investors, but also for its employees, clients and the communities we serve. We are therefore impelled to perform with the highest standards of governance and ethics; provide products and services that exceed customer expectations; attract and retain quality employees; provide support in our communities; and lessen the environmental impact of our business practices.
Company culture
CDHIB is a dynamic, growing company with a commitment to excellence and innovation. Our line of business requires an investment in "Intellectual Capital" and as such, we encourage our team to constantly seek to improve their knowledge and skills both formally through education, and informally through interaction with local and international industry peers.
We believe that each team member is important and we attempt to give every employee the opportunity to develop and grow. Our open-door policy encourages ideas' sharing across all levels within the organization. We encourage all team members to ask questions and search for better solutions, and in return we reward exceptional performance, while identifying and correcting performance that does not meet the bank's standards.

As the ultimate judges of our performance, our customers expect exceptional service and value. We therefore focus on developing new and better solutions to customers' financial challenges. We stress creativity in everything we do and are proud to have pioneered several innovations in the industry. We appreciate the dedication and efforts from our team in upholding our values and standards of excellence.
Customer service charter
As the leading investment bank in Malawi, CDHIB aims to change the face of banking in Malawi and in the region. That is why the bank has a well-defined customer service charter. CDHIB's Customer Service Charter sets out the bank's commitment to providing the highest standard of customer service. The bank seeks to meet customers' financial needs by offering quality financial advice, products and services. The customers are the cornerstone of CDHIB's business and it consistently strive to 'walk the talk' and exceed customers (and other stakeholders') expectations by anticipating and meeting their needs.
External auditors
Grant Thornton Malawi
P.O Box 508
Blantyre
Malawi
Contact information
Head office
:
CDH Investment Bank
CDH House
5 Independence Drive
PO Box 1444
Blantyre
Malawi
Tel: +265 (0) 1 821 300
Fax: +265 (0) 1 822 826
Email:
This email address is being protected from spambots. You need JavaScript enabled to view it.
Website:
www.cdh-malawi.com
Banking centres:
Blantyre
CDH House
5 Independence Drive
PO Box 1444
Blantyre
Malawi
Tel: +265 (0) 1 821 300
Fax: +265 (0) 1 822 826

Lilongwe
City Mall
Mchinji Roundabout
PO Box 30545
Lilongwe 3
Malawi
Tel: +265 (0) 753 464
Fax: +265 (0) 753 83


Lilongwe, City Centre
Capital City Banking Centre
CDH Investment Bank Centre
PO Box 30545
Lilongwe 3
Malawi
Tel: +265 (0) 776 176
Fax: +265 (0) 776 194


Lilongwe, City Centre
Umodzi Park
PO Box 30545
Lilongwe 3
Malawi
Tel: +265 (0) 789 580
Fax: +265 (0) 753 833