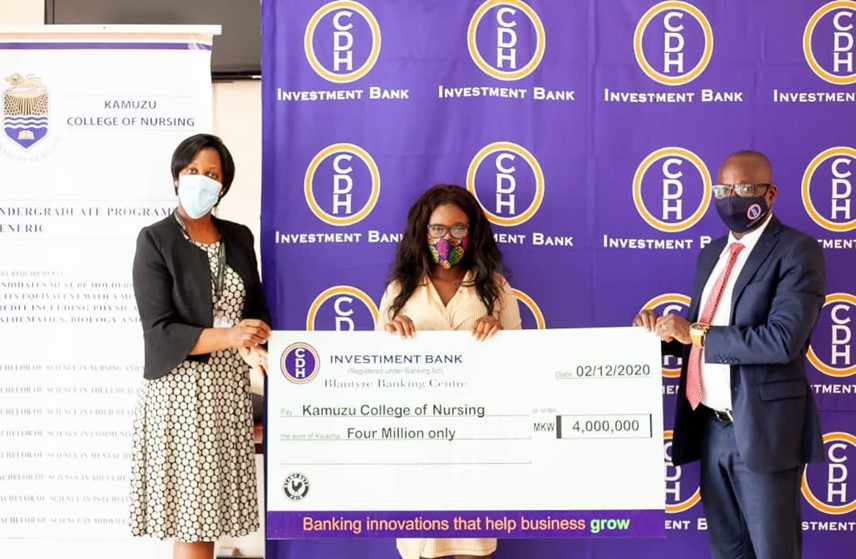 CDH Investment Bank has donated K4 million to the Kamuzu College of Nursing (KCN), a constituent college of the University of Malawi. The donation was made to support students access online learning equipment, including internet dongles, tables and computers. The equipment will allow nursing students to attend classes remotely as the college enforces social distance learning methods during the Coronavirus (COVID-19) pandemic period. 
Speaking at the handover ceremony, CDH Investment Bank's Chief Business Development Officer, Mr Benison Jambo said, "now more than ever, it is important for health systems and health care organizations to create and mobilize resources to support effective development of physicians and nurses." He added that," in just a few months, the Coronavirus disease has upended the lives of many people around the world. Our nurses have been at the forefront to ensure that the impact of the disease is minimized. The bank therefore saw it fit to show its appreciation by donating towards supporting the development of our national heroes."
The Vice Principal of KCN, Dr Belinda Gombachika, received the donation on behalf of the college. She indicated that the donation was timely as it will remove the digital divide among students. Dr Gombachika added that it was pleasing to note that CDH Investment Bank decided to invest in the education of our nurses whose role is key to the development of the nation more especially in the tough COVID-19 environment. 
Representing the students, Ms Hilda Chinoko, a third-year student at the college, expressed gratitude to CDH Investment Bank for the support. She acknowledged that the donation will benefit many students who are facing challenges in accessing online lessons due to limited access to internet facilities and good computers.