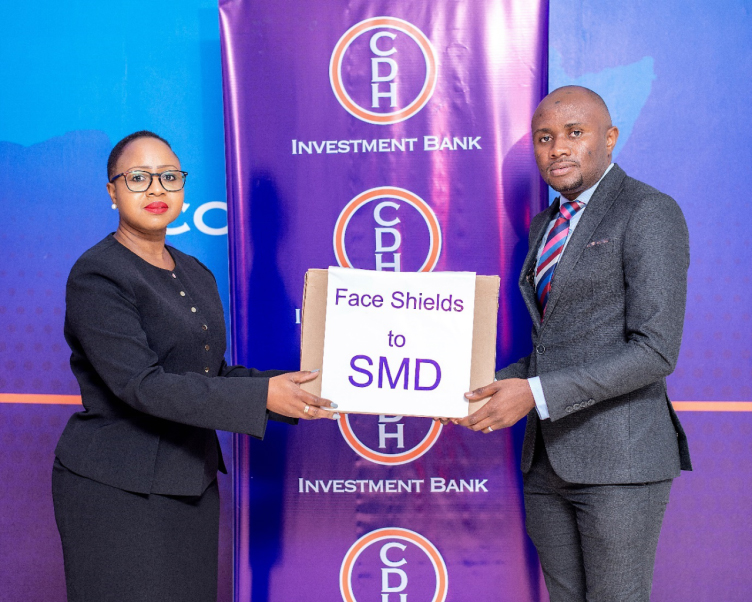 CDH Investment Bank has donated face masks and essential Personal Protective Equipment (PPE) worth K7 million to the Society of Medical Doctors (SMD) to assist in the fight against COVID-19. The donated items which also include face shields and hand sanitizers were produced by the University of Malawi, The Polytechnic.
Speaking at the donation, CDH Investment Bank Director, Mr Kingsley Zulu commended the medical doctors for forming a society which is an essential platform for medical doctors to among other things, engage and advocate for better preventive and curative interventions on behalf of the people of Malawi through sound medical practices. Medical doctors are at the forefront in the fight against the COVID-19 pandemic. The bank realizes that the pandemic has put a huge strain on health care systems worldwide including Malawi. The pandemic has among things, brought about shortages of essential PPEs. It is therefore with this background that CDH Investment Bank was compelled to make the donation to assist medical doctors as they continue carrying out their work.
In his acceptance speech, Dr Yamikani Moyo, who received the donation on behalf of SMD, thanked CDH Investment Bank for the donation. "This is a timely gift" he said, adding that "SMD will ensure that the donated items will be shared equitably among the most affected hospitals". He added that the COVID-19 pandemic has revealed several weaknesses in our healthcare systems. However, through the pandemic, we have also discovered our potential as a nation. For the first time, medical doctors will rely on PPE produced locally, by the Polytechnic. This is amazing. He encouraged the Polytechnic to continue investing in innovation and in exploring new locally made technology which will assist in serving the people of Malawi in key sectors like health. Finally, he also requested other institutions of higher learning to emulate the example of the Polytechnic.