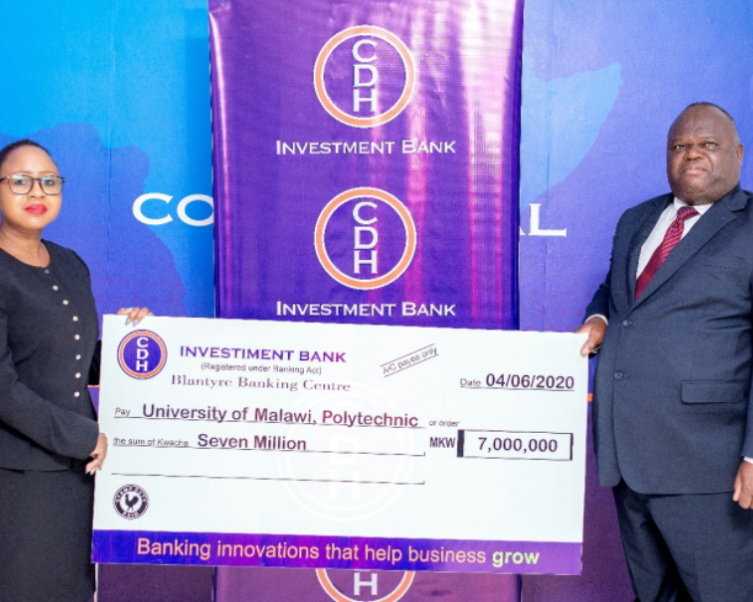 CDH Investment Bank has donated K7 million to the University of Malawi, The Polytechnic to assist the University in the production of COVID-19 Personal Protective Equipment (PPE). The bank partnered with The Polytechnic as one way of promoting local talent and to encourage the innovation that is being done by students at the university in coming up with technological interventions to help in the fight against COVID-19.
Speaking when making the donation, CDH Investment Bank Director, Mr Kingsley Zulu said the work being done by the Polytechnic in helping the Government of Malawi by providing solutions in the fight against the COVID-19 pandemic is impressive and deserves support. He further said the bank eagerly joined hands with The Polytechnic as one way of keeping with its commitment of partnering with academic institutions in uplifting education standards in the country.
Professor Grant Kululanga, Principal of the Polytechnic in response, thanked CDH Investment Bank for supporting the institution. He told journalists that the Polytechnic is committed to providing solutions to local communities and therefore they formed a COVID-19 task force, which through research came up with various innovative ideas. These ideas are brainstormed, and several high quality and innovative products are being manufactured by students from the Faculties of Engineering and Applied Sciences. Professor Kululanga presented the list of equipment which is being produced at the Polytechnic. These include, Ventilators, Decontamination Chambers and Drones. Professor Kululanga called upon the private sector to support the institution as it continues to develop ways of supporting the country deal with the damaging global pandemic.