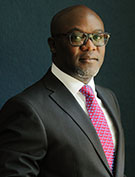 Thoko Mkavea
Chief Investment Banking Officer
Thoko was appointed Chief Investment Banking Officer for CDHIB in 2nd April 2012 following a successful conversion of Continental Discount House Limited into an investment bank. He is responsible for the bank's investment banking division.
Thoko has a distinguished career spanning over 18 years covering investment banking, finance, investment management, project finance, sales general management and treasury. He joined the CDH group as Head of Asset Management with Continental Asset Management Limited in 2007. During his time in the group, Thoko has led several high profile corporate finance transactions serving several clients. Previously, Thoko was Deputy General Manager and Head of Finance and Administration at The Leasing and Finance Company of Malawi Limited (LFC). He also served as a senior manager in finance with Henred Freuhauf Limited, an engineering manufacturing company based in Blantyre.
Thoko played a central corporate finance role during the conversion of Continental Discount House Limited to an investment bank.