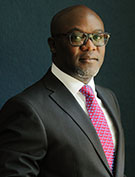 Thoko Mkavea
FCMA, CPA (M), MBA, BAcc
Chief Investment Banking Officer
Thoko was appointed Chief Investment Banking Officer for CDHIB in April 2012. He is responsible for the bank's investment banking division.
Thoko brings with him over 13 years of experience covering investment banking, accounting and finance, investment management, general management and treasury risk management. Previously, between 2007 and 2012, Thoko was Head of Asset Management for CDH Asset Management Limited, one of CDHIB's group companies.. He also served as Deputy General Manager and Head of Finance and Administration for The Leasing and Finance Company of Malawi Limited (LFC). Before joining LFC, Thoko was Management Accountant for Henred Freuhauf Limited, an engineering manufacturing company between 2000 and 2003.
Thoko played a key corporate finance role during the conversion of CDH to an investment bank.
Thoko is a Fellow of the Chartered Institute of Management Accountant (England). He holds a Master of Business Administration degree (MBA) from the University of Derby (England). He also has a Bachelor of Accountancy degree from the University of Malawi.