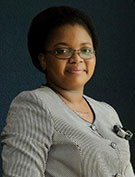 Gillian Kachikondo
FCCA, CPA (M), BAcc
Chief Operating Officer
Gillian joined CDH in 2008, and is currently Chief Operating Officer for CDH Investment Bank. She was Head of Internal Audit for CDH Discount House until its conversion into an investment bank in April 2012.
Gillian previously worked for Air Malawi between 2004 and 2008 as Treasury Manager and Management Accountant respectively. Prior to that, she was Internal Auditor for Population Services International (Malawi). Gillian started her career with Deloitte in 2000.
Gillian has a Bachelor of Accountancy degree from the University of Malawi. She is a Fellow of the Association of Chartered and Certified Accountants (England), and a Certified Public Accountant (Malawi).