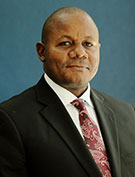 Misheck Esau
ACMA, CPA (M), BAcc
Chief Executive Officer/ Managing Director
Misheck was appointed Managing Director and Chief Executive Officer of CDHIB on 2nd April 2012. Misheck was Managing Director and Chief Executive Officer of Continental Discount House Limited until its successful conversion to the bank in April 2012.
Misheck has over 18 years' experience covering accounting, treasury management, risk management, bank management, structured trade finance, project finance and investment management. He joined Continental Discount House in 2004 as Head of Treasury. In 2005, Misheck was appointed Head of Business Development and Marketing before being appointed Managing Director and Chief Executive Officer in 2007. Previously, Misheck worked as Treasury Manager of Nedbank (Malawi) Limited. He also worked as Bank Examiner with the Reserve Bank of Malawi's Bank Supervision Department Before this Misheck worked at Malawi Rural Finance Company Limited then a Malawi Government World Bank funded project.
Misheck has been a key driving force in the diversification of the CDH Group which in 2012 culminated in the opening of CDH Investment Bank with its unique service offering.
Misheck is a Non-Executive Director of Continental Holdings Limited, Continental Asset Management Limited, Continental Capital Limited, and Continental Properties Limited. He is also the President of the Bankers Association of Malawi (BAM) and a council member of the Institute of Accountants in Malawi (ICAM).
Misheck has a Bachelor of Accountancy degree from the University of Malawi. He is also an Associate member of the Chartered Institute of Management Accountants. He is also a Chartered Global Management Accountant.