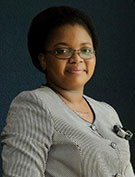 Gillian Kachikondo
Chief Operating Officer
Gillian was appointed Chief Operating Officer for CDH Investment Bank in October 2015 after serving as the Chief Internal Auditor for the Bank since the inception on 2nd April 2012.
Gillian has a distinguished career spanning over 15 years covering operations, finance, internal audit, project management and treasury. she joined the CDH group as Head of Internal Audit for Continental Discount House in 2008. Previously, Gillian was Treasury Manager and Management Accountant at Air Malawi Limited. She also served as an Internal Auditor at Population Services International (Malawi). Gillian started her career with Deloitte in 2000.
Gillian has played a key role during the conversion of Continental Discount House Limited to an investment bank and the opening of the Bank's additional Banking Centres.