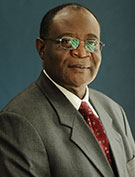 Jean Rene Moukala
Acting Chief Executive Officer
Jean Rene has over 25 years experience covering bank management, leasing, and structured trade finance. He previously worked for Societe Generale (Cameroon) where he held various senior management positions. In 2000, Jean Rene was appointed Chief Executive Officer of Sogelease, a leasing company covering Cameroon, Equatorial Guinea and Chad. Before that, Jean Rene served as Chief Operating Officer of Cauris Finance Afrique. Between 2006 and 2010, he served as Senior Manager of Loita Capital International Partners Limited. Jean Rene also served as Director of JB Advisors Limited, a corporate finance advisory and training firm (Cameroon).
Jean Rene has a Bachelor of Social Science (Economics), from University of University of Lille and a Master of Economics obtained from University of Lille, France. He also holds a Master of Business Administration degree (MBA) from ESG UQAM, Canada.