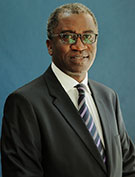 Ted Sauti-Phiri
Director
Ted brings to the team an impressive multi-industry experience having worked for a Coca-cola franchise, acement manufacturing firm, a banking institution and a telecommunication's blue chip in Africa. Ted served as Managing Director of Airtel Sierra Leone Limited between 2006 and 2010. Between 1999 and 2006, Ted served as Finance Director for Celtel Malawi Limited, Chief Finance Officer for Airtel Tanzania Limited and later for Airtel Zambia Limited.
Ted spent his earlier years in various senior positions in finance and IT, working with Housing Finance Corporation (Malawi), National Bank of Malawi, Portland Cement Corporation Limited (Malawi) and Southern Bottlers Limited (Malawi).
Ted has a Master of Business Administration degree (MBA) from the University of Liverpool. He is a fellow of the Association of Chartered Certified Accountants (England). He also holds a Bachelor of Science (Honours) in Computer Science and Chemistry from the University of Malawi.