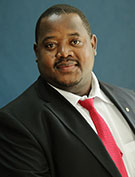 Gibson Ngalamira
Director
Gibson is currently the Head of Operations at Press Trust Limited with over 12 years experience in management of social development programmes, programme evaluation, investment portfolio management, strategic planning, and corporate governance and company secretarial practice. Before joining the Trust in 2003, he briefly worked for Deloitte and Touché, an auditing and financial advisory services firm.
Gibson has served as a non-executive director on the boards of CDH Holdings Limited and Press Agriculture Limited. He has also previously served as a non-executive director on the board of Namiwawa Hotels Limited. In July 2011, he was appointed to serve as a Technical Committee Member (Director) of the joint UNDP/ Press Trust GSB Pro-Poor Revolving Fund.
Gibson is a dedicated Chartered Secretary (ACIS) as well as a Fellow of the Association of Chartered Accountants (FCCA) and an ACCA affiliate with London College of Accountancy. He is an accomplished business expert able to provide professional advice on current principles of good corporate governance, strategic management and statutory compliance. He holds a Bachelor of Accountancy Degree from the University of Malawi and CAT Diploma from Malawi College of Accountancy.